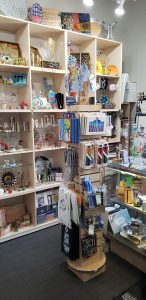 The Sisterhood Judaica Gift Shop at Morristown Jewish Center Beit Yisrael provides one of the largest selections of Judaica items available in Morris County. Located in the Rotunda of the Morristown Jewish Center Beit Yisrael in the heart of Morristown, the Judaica Gift shop offers a wide collection of Judaica from Israel and American artists to ensure that your Judaica needs are met for all holidays, simchas and special occasions.
All items needed for your B'nai Mitzvah, including personalized kippot, are available. We carry many items suitable for wedding gifts including glass shard items that can also be personalized by special order. Unique hostess gifts and a large selection of jewelry from various artisans make wonderful gifts for any occasion. Women's and men's tallesim are in stock or can be ordered along with a set of tefillin. We also have a large selection of Mezuzot, baby gifts and specialty holiday items for children.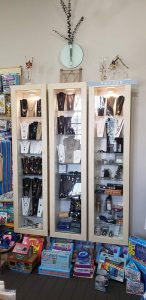 Hours: The Judaica Gift Shop will be open during Religious School on Sundays from 9:30am-12noon. Shopping during the week will be by appointment only. See Contacts below to make an appointment.
Contact: To contact the Judaica Gift Shop, please email giftshop@mjcby.org or reach out to Sharon Barkauskas at 973-285-1877/cell 201-874-8744
Click here for our High Holy Day Catalogue
Click here for our Passover Catalogue
Click here for our Hanukkah Catalogue
Click here for our "Back to Basics" General Catalogue
Click here for our Jewelry Catalogue